Introduction
Imagine stepping into your backyard and being greeted by a stunning landscape that feels like a personal sanctuary. With flagstone, concrete, stamped concrete, pavers, and decomposed granite, this dream can become your reality. These materials are the building blocks to a stunning backyard. Whether you're looking to create a cozy patio, a lively entertainment area, or a serene garden path, we've got you covered.
Flagstone: The Epitome of Natural Elegance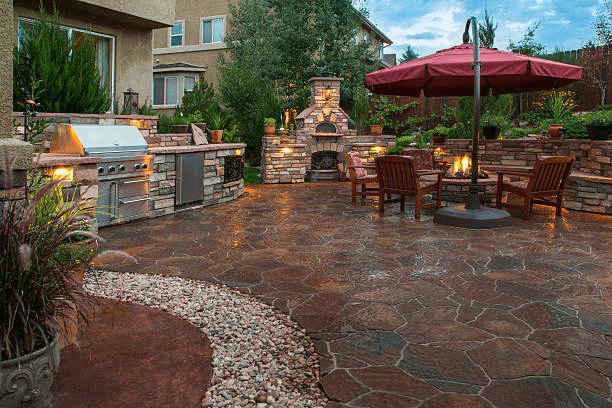 Flagstone, with its earthy hues and irregular shapes, is like an artist's palette for your garden. Its rugged surface is perfect for rustic garden paths, while its rich colors make elegant patios that blend seamlessly with the natural surroundings. Plus, flagstone's natural ability to withstand the elements means your stunning designs will stand the test of time.
Concrete: The Canvas of Your Outdoor Space
Think of concrete as the canvas on which your outdoor masterpieces are painted. Its strength and versatility make it ideal for everything from modern, minimalist patios to intricate, ornate garden sculptures. And with today's innovations, concrete can be stained, polished, and textured for endless customization.
Stamped Concrete: A Touch of Sophistication
Imagine the beauty of cobblestone, the elegance of brick, or the natural look of wood – all without breaking the bank. Stamped concrete brings your visions to life by imprinting patterns into the concrete before it sets. It's a cost-effective way to add a touch of luxury and sophistication to patios, driveways, and more.
Pavers: Crafting Patterns with Character

Pavers are the puzzle pieces that bring charm and character to your outdoor spaces. Whether you opt for the classic elegance of brick, the textured beauty of natural stone, or the modern simplicity of concrete, pavers offer endless possibilities. Lay them in intricate patterns for a patio that's as unique as you are, or create winding, romantic walkways through your garden.
Decomposed Granite: The Natural Choice for a Rustic Look
For those seeking a more naturalistic approach, decomposed granite is your ally. The fine granules compact to form a smooth, yet permeable surface that's ideal for paths and patios. Its natural tawny color and ability to adapt to any shape make it perfect for winding woodland paths or cozy cottage gardens.
Mix and Match: Combining Materials for a Custom Look
Unleash your creativity by mixing materials. Combine the natural elegance of flagstone with the rustic charm of decomposed granite for a garden path that wows. Or pair the sophisticated patterns of stamped concrete with the rugged character of pavers for a patio that's truly one-of-a-kind.
Conclusion
Your outdoor space is an extension of your home and deserves the same attention and care. With flagstone, concrete, stamped concrete, pavers, and decomposed granite, the possibilities are endless. Start your journey towards a breathtaking backyard and create a space that you'll love for years to come.
Ready to transform your outdoor space? Contact us today for expert advice and quality materials to bring your vision to life!